We're here to support our customers by responding to claim events with expertise, compassion and efficiency. 
If you're having trouble meeting your financial obligations to us (excluding premium payments), you can ask us for financial hardship support. 
Step 1. Contact us
We'll ask you some questions to understand your circumstances, explain the financial hardship application process and answer any questions. Please contact our Claims team on the number shown on your Insurance Certificate.
Step 2. Complete the financial hardship application
We'll ask you to complete a financial hardship application. Depending on your specific needs, the circumstances and the amount we may request supporting documentation to assist us in reviewing your application for support.
Step 3. Assessment of application
Once we've received the completed form and any required supporting documents, we'll assess your application and communicate the outcome to you in writing within 21 days.
Types of Support
We have a range of options available to support you which may include:
Temporarily postponing a payment
Collecting a payment in instalments
Arranging direct payment of a claim expense (eg. hire car)
Additional support aligned to your needs:
We are committed to supporting customers in financial hardship and our team will work with you to provide support that is aligned to your specific circumstances.
Auto & General Insurance Company Ltd subscribe to the General Insurance Code of Practice 2020 ('the code'). Part 10 of the code outlines financial hardship support. The code can be accessed by visiting: http://codeofpractice.com.au/ The Code is independently monitored and enforced by the Code Governance Committee.
Frequently asked questions
What is financial hardship?
Financial hardship means you are having difficulty meeting your financial obligations to us.  
How do we assess financial hardship requests?
Auto & General assess financial hardship applications on a case by case basis to support customers based on their individual circumstances. 
Am I eligible for support with my premium?
Financial hardship support does not include the payment of premiums however we encourage customers having difficulty making premium payments to contact our Service team. 
Can I fast track a claim during a natural disaster?
Where a natural disaster has occurred and you need to make a related claim which has caused you an urgent financial need, we'll do either or both of the following:
fast track our assessment and the process we follow to make a decision regarding your claim, and/or
pay you an advance amount to help ease your urgent financial need, within five business days.
What if I'm not satisfied with the outcome?
If you are dissatisfied with any aspect of our service, including the support we have offered as part of your financial hardship application, you may ask for a review of the decision by following our complaints process. 
Independent Support
The National Debt Helpline is a not-for-profit service that offers free, independent and confidential financial counselling to help people tackle their debt.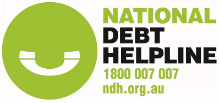 National Debt Helpline (NDH)
A not-for-profit service that helps people tackle their debt problems. NDH offers free, independent and confidential financial counselling.
1800 007 007
9.30am–4.30pm AEST, Mon–Fri
ndh.org.au
National Debt Helpline website